This article will show you how you can add Virtual Services to your Party Pro Manager Catalogue. In fact, with a bit of creativity, you can follow similar steps to add all-kinds of unique offerings to your clients!
If you'd like to see an example of all of this in action, have a look at this sample company page we've set up. Just click on the "Get an instant quote" button to see a booking form with a mix of live event services and virtual services.
Here are a couple of screenshots of what your Virtual Services could look like on your booking form: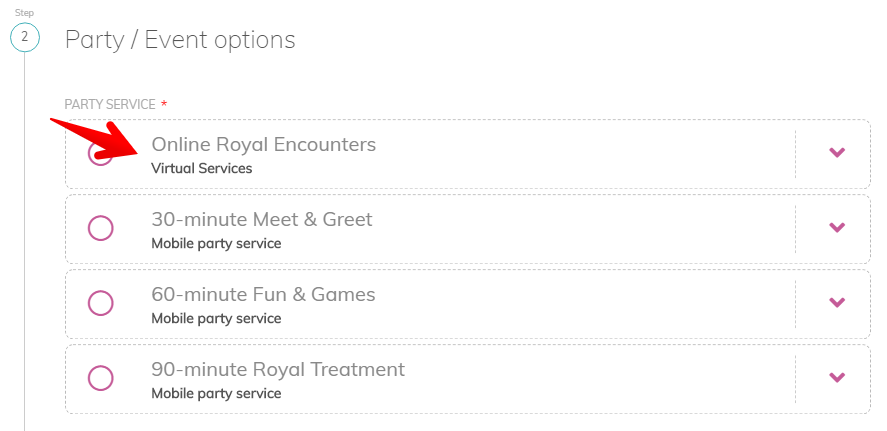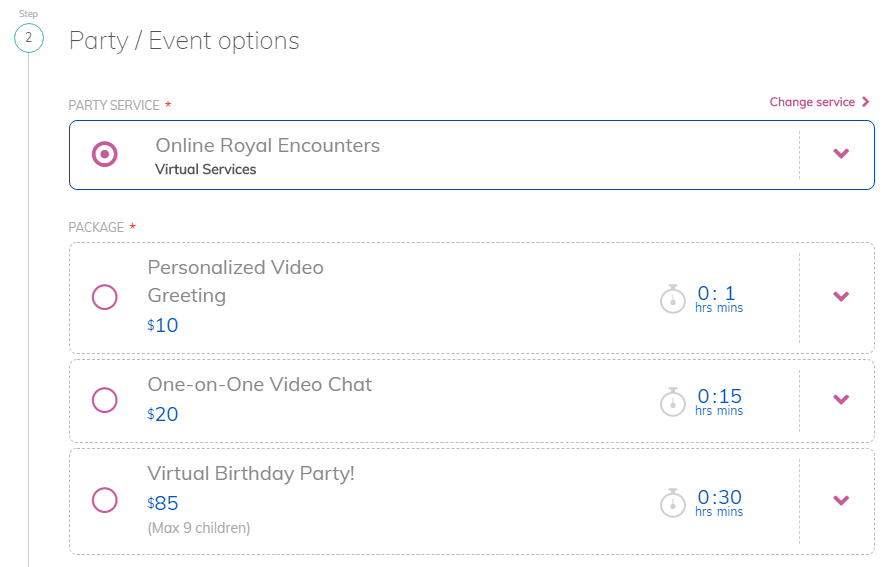 OK, let's do this!!
Step 1: Create a new "Service" for your Virtual Services
Go to "Catalogue" in the main menu
Click the "+ SERVICE" orange button at the top of the page
Enter the "Name / Headline" for your new service option
Select a "Service type", we recommend selecting the "Event / Party service (With venue included)" option
Select customer types this service is for (as you see fit)
Add a "Summary" to describe your new service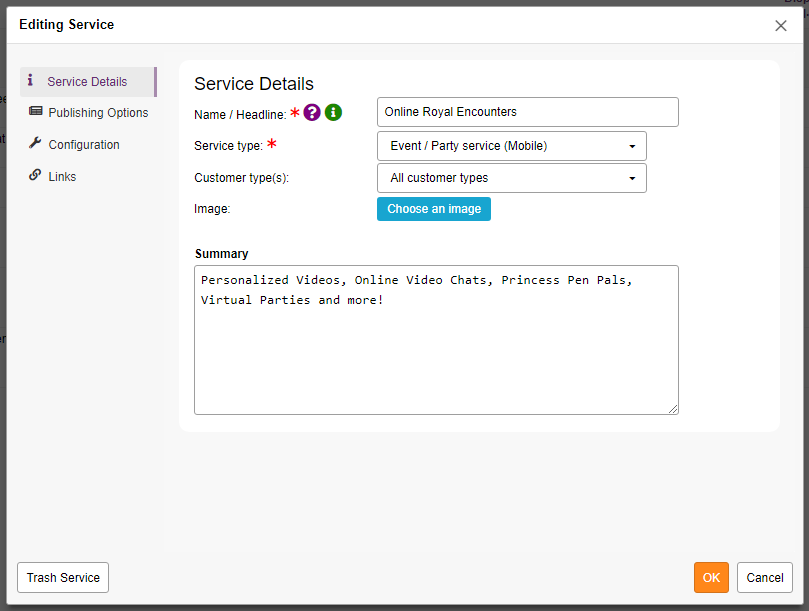 Step 2: Select your Publishing Options
Click "Publishing Options" in the left sidebar menu of the popup Editing Service window
Make sure the check box is checked for "Publish this service" so that your new service will appear on your live booking form when you are done
Enter the display sequence so that this service appears in the right spot on your list of services. I've gone with 0 to ensure it is always at the top (you can change this later)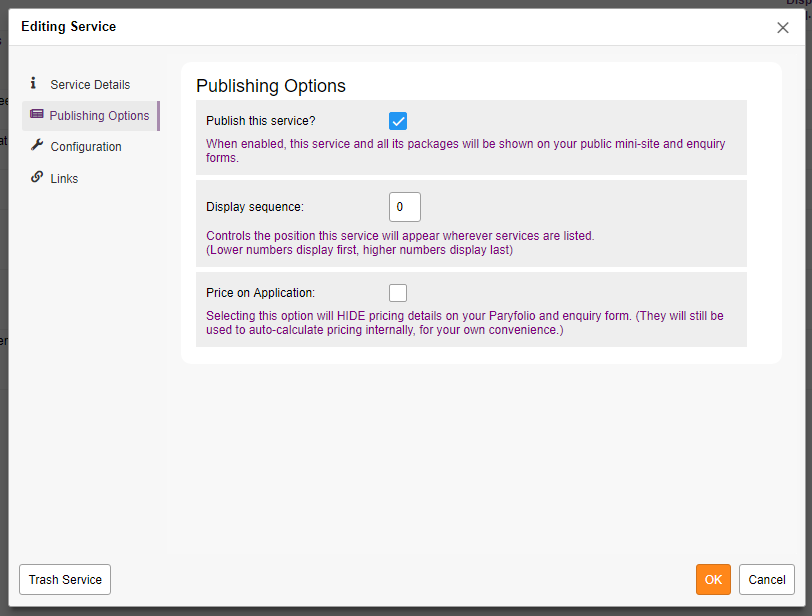 Step 3: Configure the display options for your new services
Click "Configuration" in the left side bar menu of the popup
First thing we're going to do is enter a value for the "Override service label type" field. Because earlier we selected the "Event / Party service

(With venue included)

" for the Service Type, by default our new service will be labeled as "We provide the venue". We're going to override this term for this service only by entering "Virtual Services"
Then we're going to hide portions of our booking form that are not applicable for this new service type by putting a check in the box for any segments we don't want to include (see image below for list of options I've chosen to hide)

Hide venue: hides fields that request an event location address
Hide date and time: hides filed that request desired dates and times
Hide number of children: hides field that asks for estimated number of children
Hide age range of children: hides fields asking for age range of guests
Hide guests of honour: hides fields asking for name and age of guest of honour
Hide theme request: hides the field asking for a requested party theme (if you've activated this optional field)
Hide mailing address: hides fields asking for a mailing address (if you've activated this optional field)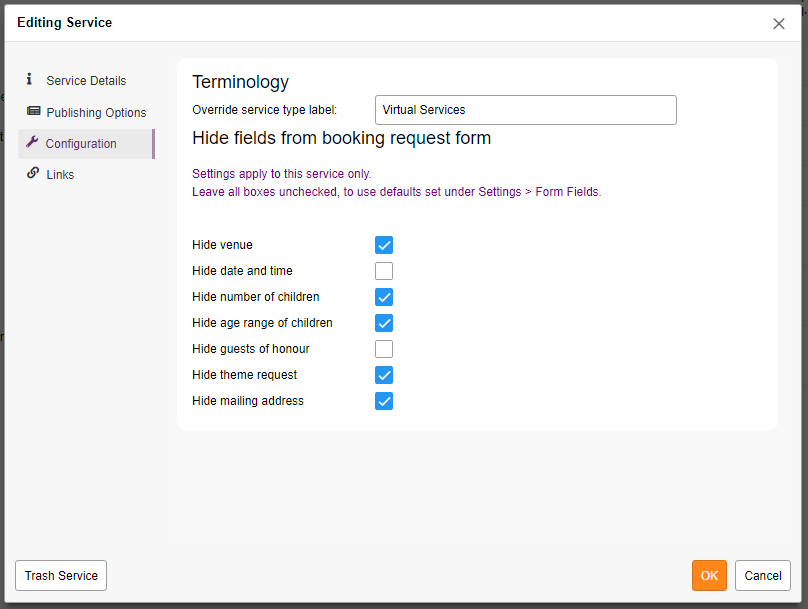 Step 4: Save changes
Click "OK" button to save changes
Step 5: Add Packages to your service
Just like any other service, next step is to add a package. Simply navigate to your Catalogue in your PPM admin and hover over the new service you've added. A "+ PACKAGE" button will appear. Click to add a new package.
Now you can add whatever Package(s) you'd like for this service AND any additional options and choice as you see fit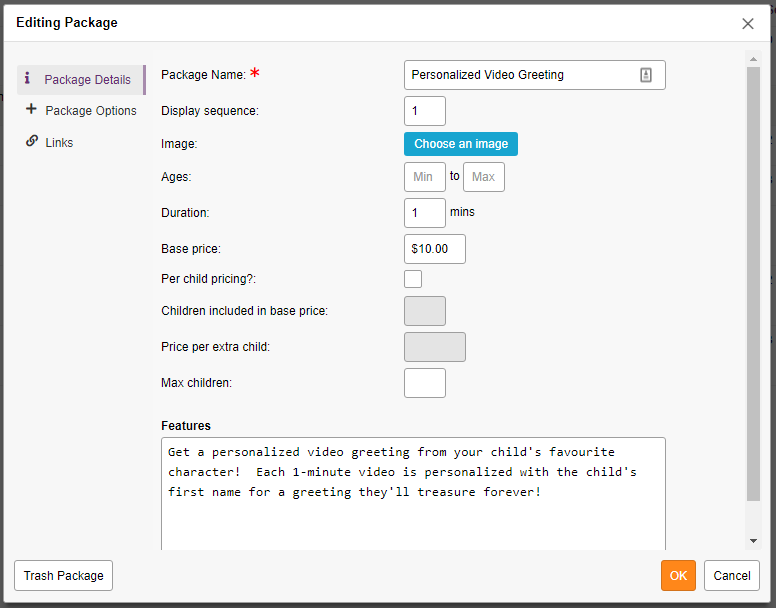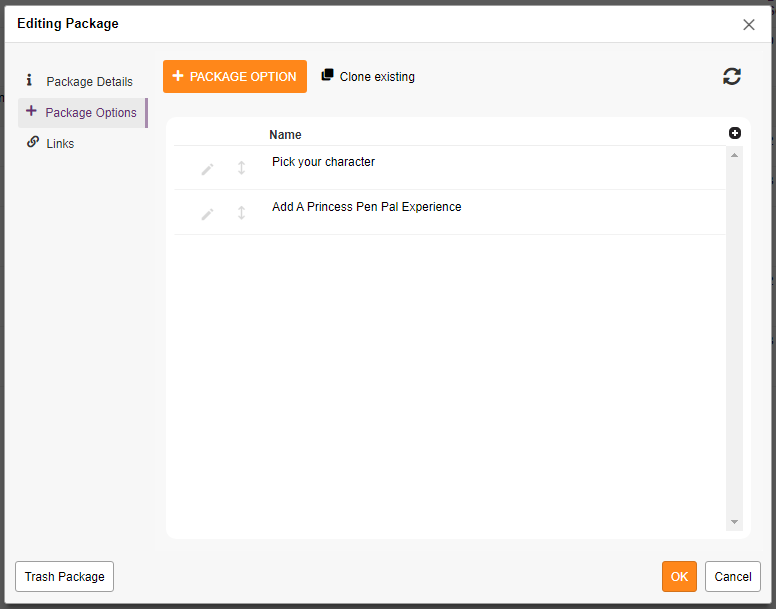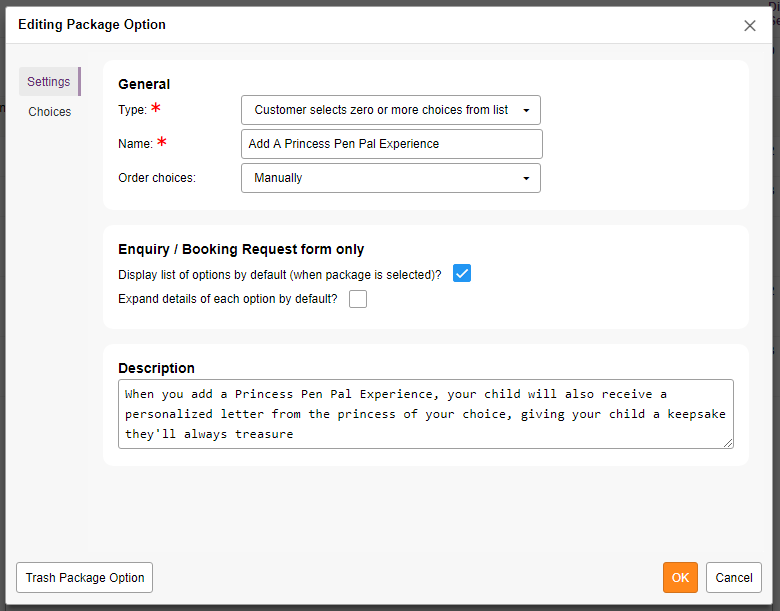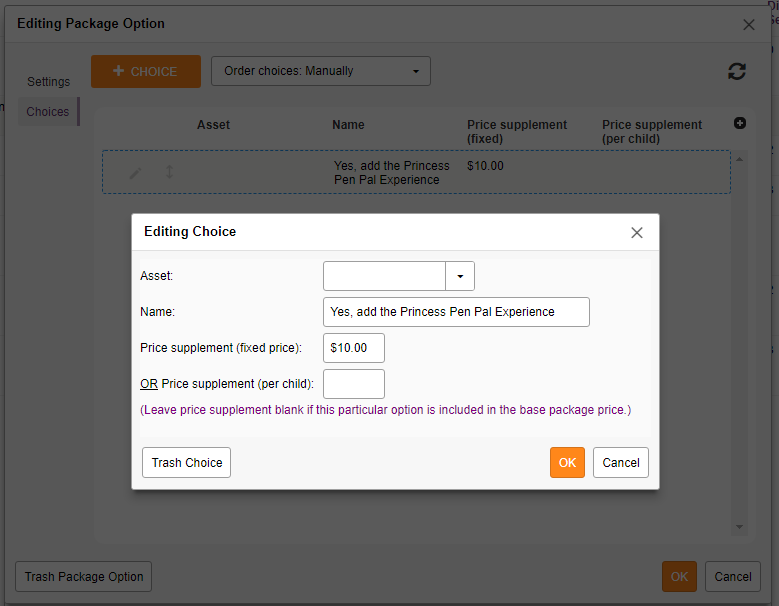 As mentioned at the start of this article, with a bit of creativity the same process can be followed to add many non-event products and services! Enjoy!!