To Access: Go to "Settings" > "Booking Checklist"
Do you have a list of repeatable tasks you need to complete for most clients that you want to make sure you never miss? If so, the Booking Checklist feature is for you!
When you create a Booking Checklist, you'll be able to create a list of tasks that you can later set personalized deadlines for each individual event you add to PPM.
For example, you may want a reminder to:
Add/Notify Staff
Pack Equipment
Send An Invoice
Etc.
To do this, first, click "Booking Checklist" in the side navigation menu of the popup window.
To add a new Checklist Item, click the orange "+ CHECKLIST ITEM" button at the top.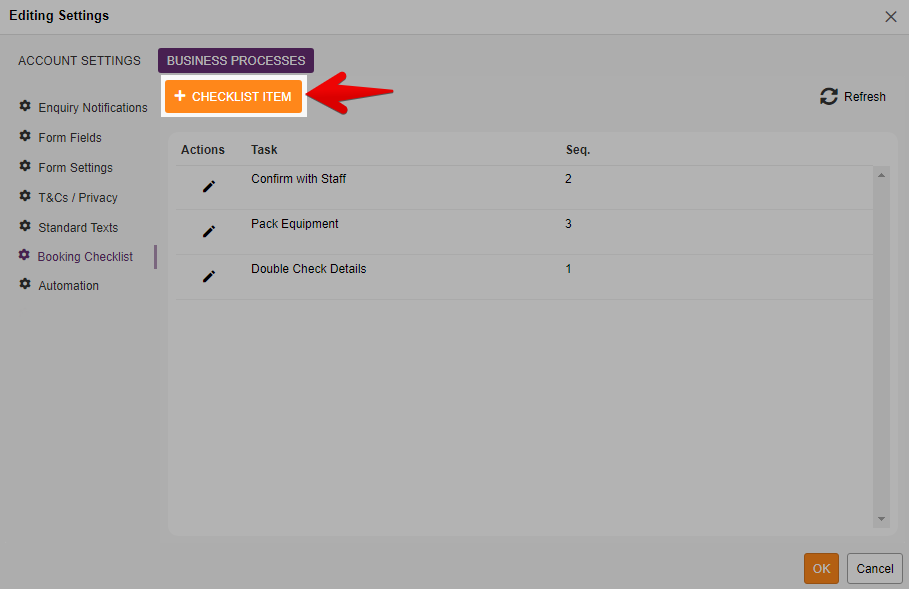 A new popup will appear, where you can add the Task and assign a Display sequence.

Add your details, click OK.
Repeat this process for all the Checklist Items you'd like to add.
You can find the checklist for each individual event in the Event Editor via the "Event Activity" tab (click on the 'list' icon), then click on the "Checklist" option. Any deadlines you set, will appear on your PPM Calendar, so that nothing important is ever missed!